Facilities
---
Library
The college has a well stacked library housed in a separate building with a total area of about 737.50 Sq.m with separate halls for issuing Section and Reference section. In addition to the Main library, there are separate departmental libraries in all Engineering departments. At present the library has 48,572 Volumes on its shelves costing over Rs.92.3 Lakhs The library has Subscribed to online e-resources (e Journals packages) through VTU Consortium from different publishers listed below.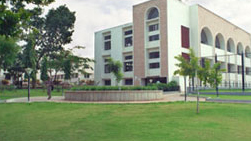 1.IEEE, IEL Onlone.
2.ASME (American Society of Mechanical Engineering)
3.Springer e-Journals & e-books
4.ASCE ( American Society of Civil Engineer)
5.Taylor and Francis
6.ProQuest Engineering
7.Knimbus Digital library
8.Knimbus Remote Access
9.Kopykitab e-Books
10.Sententia- An Assistive tool for formal writing
Besides this 56 National Journals 18 news papers and 23 Basic Science and General Magazines are also subscribed.
IIn addition to the prescribed text books and reference books, the library has several Volumes of Encyclopedias, Hand books, technical & General Dictionaries, Project Reports, Proceedings of national & International conferences, journals, Books for Competitive examinations like KAS, IAS, GRE, GATE, TOEFEL & latest books on Basic Sciences.
The Library has been fully computerized with Easylib advanced multi-user Software, all the modules have been automated including OPAC facility. Further OPAC Facility has been extended to all the respective departments through Wi-Fi network which will provide online accesses to entire library collection. The library has 22 number Computer systems networked for library automation
SPECIAL FACILITIES & SERVICES OFFERED
1.Students can borrow 05 books at a time & can retain the books for a period of 15 days, the books have to be returned / renewed before the due date.
2.Teaching faculty can borrow 08 books at a time
3.The College library has a special SC/ST book bank facility exclusively for the use of SC/ST students. They can borrow 02 books and they can retain the books till the end of the semester. This is in addition to the regular 05 books
4.The college library has a Photocopying Machine to cater the needs of the staff & students at nominal rate
5.The college library is having the SWAYAM NPTEL Local Chapter for accessing the of NPTEL Web Course 125+ 136 Video courses, the library has acquired all the NPTEL Video Courses in 02 External Hard disk.
6.The library is arranging live transmission of VTU e-Shikshana Lecture programmes for the benefit of students and staff through satellite Communication.
7.The College library is an Institutional member of DELNET. It offers access to more than a million of bibliographic records through internet and facility to borrow books on Interlibrary loan (ILL) and Journal articles.
8.The college library has Institutional Member of Nation Digital Library.
LIBRARY HOLDINGS
VOLUMES - 48,572
TITLES - 14,654
SC/ST BOOKS - 1,615
GENERAL PERIODICALS - 31
PROCEEDINGS (TECH) - 97
STUDENTS PROJECTS REPORTS - 2355
AUDIO CASSETTES - 20
VIDEO CASSETTES - 23
CD-ROMS (Technical) - 1981
FLOPPY DISKETTE (TECH) - 161
COMPUTERS Pentium IV - 22
USERS - 1500